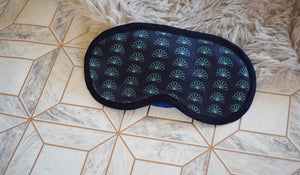 Navy Fan Silk Eye Mask
Regular price $52.00 Sale
Stunning Sleep Eye Mask in Luxurious Silk Satin with a striking Green Fan outline repeat pattern to the front and navy plain silk satin back.

Each mask is made from soft 100% pure Satin Silk and has a super soft velvet elastic band back so can be easily put on and won't leave any marks on your hair or pull.

The featured ART DECO Fan Repeat design was inspired by our best selling FanFan silk scarf which pulls inspiration from the symmetrical architecture in London's Art Deco buildings.

Each mask is designed in my studio in Berkshire, then digitally printed in Lancashire, within a family run business then hand-sewn to the highest craftsmanship.

Benefits of a Silk Eye Mask -

Silk has been proven to help retain moisture and possibly have a plumping, anti-wrinkle effect when applied to our skin due to the naturally occurring protein in silk working with our own Keratin.

Numerous studies have also shown just how bad light is for your quality of sleep.  When your brain senses pure darkness, it causes the production of melatonin, the chemical of sleep - that's where a sleep mask that blocks the light out will help you sleep better and deeper.

These Silk Eye Masks are truly gorgeous in your hand and feel very luxurious when you have it on - the printed silk catches the light beautifully!

IDEAL GIFT IDEA - Arriving wrapped in stylish Gold tissue paper in a luxury gift box, these Luxury Silk Eye Masks are such a treat and a perfect idea for a unique present!

If sending as a gift let me know when ordering and leave a message, and I will happily add a Cinda Clark note with your message on it.

* Comes beautifully Gift Wrapped with Luxury Black Gift Box

* Approx Size 20 x 10 cm

* Makes a Perfect Gift!

* Made in Britain

* FREE UK DELIVERY - get in touch about international shipping

This product is in stock and I will dispatch next day (same day if order before 1pm)

Care: Gentle hand wash